Be Careful. Everything you can read online about Ha Long Bay says this. It's for real, you can spend a great deal of money quickly and unnecessarily while experiencing Ha Long Bay.
Upon arriving in Hanoi, Michelle and I were, for the first time since we got them, without our bikes. It was strange and a little sad to be missing two members of the expedition, but the bright side was that we got our passports back as soon as we saw Zofi. I barely had time to take pleasure in the return of another friendly face before Michelle and I were throwing ourselves in to a taxi and riding the two hours to Halong City. This is the expensive way. It cost us upwards of 1.3 million dong.
If you have the time, grab the local transport. buses run this route every day, and are reliable and about as comfortable as one would expect. If you have less than 24 hours to make it to Halong and back to the airport (as did Michelle), then you might just have to pony up and pay the cash.
Once in Halong city, there is a main street that is filled with the same style of hotel that exists everywhere in Vietnam. lots of stairs, decent amenities, really clean floors. The one thing that seems to differ between them is the bathroom. Make sure to see the bathroom in the actual room you will be staying in before you pay.
In the morning, everyone rushes down to the seaside to jump on a boat and go check out the bay. If you are hungry beforehand, check out the little streetside carts in town. Miche and I grabbed some great scrambled egg sandwiches and bahn bao! This was the first time I have ever had this devilish little treat, usually steamed up in a big bin like you see here, and it definitely won't be the last! Notice the gigantic pipe next to it.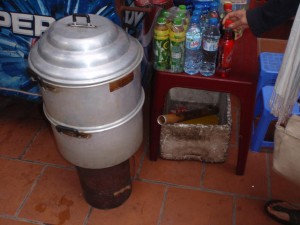 Everyone, honestly everyone, will try to tell you about the "best" way to see the harbor on their friends/brothers/husbands/dentists boat. Don't fall for it. Just do what you can to book it ahead of time or from a reputable tour group; ask around. If you aren't leaving from the main dock area, you probably aren't getting "a deal," you are most likely about to get really ripped off.
How do we know this? Take a look at Michelle's face after they told her how much her lunch was going to cost!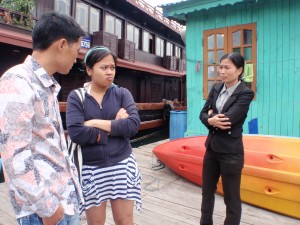 In fact, the only good part about lunch was how it started. There are big holding areas of fish that you can select a meal out of. Once your meal is selected, the fishmonger will haul the fish out with a net, drop it on the deck, and then proceed to beating it to deal violently with a giant piece of wood. It is a sight to see.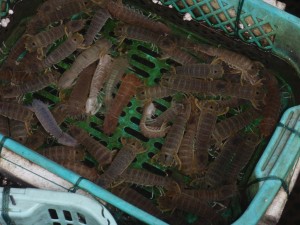 Pay close attention to the price of things. Ask for the price up front and be very clear on whether the price is per fish, or per kilo! Also, ask if there is a service charge.
The bay itself is massive. It's not surprising that people actually live their entire lives on the water here. If I went out on a boat, I would probably do the same because I would never be able to find my way back again. Both times I have been there, the bay has been completely overcast and misty the whole time. It's not unpleasant, as the bay is really something beautiful to behold, but it's rare that you ever get any sun (as in the Top Gear special) from what I have been told.
Another thing you don't see on top gear are the panhandlers; people asking the rich foreigner for "something for nothing." In this scenario, the part of the rich foreigner will be played by… you. Contrary to the evidence at hand, my extended sabbatical trip round the world, I like to work. I enjoy being part of a team and building something greater than myself. I also like getting a paycheck. I've tipped street performers on almost every continent in the world. Not because I needed to see that guy spit fire, but because he did it for my camera and I thought it was cool. There are even countries where it is ingrained in the culture like bakhshish (bak-SHEESH) in Islamic countries, so you wind up tossing someone a few coins for just about anything. What bothers me is when folks try to bring children into it. It happens over here, too. Might as well get ready for it.
A day in Ha Long Bay really isn't enough (which is why I came back), but if you are short on time, it can be done. Keep your head on straight, always ask the price first, and do what the other tourists are doing… within reason. Realize that, if you are taken out on a private boat, and suddenly one of the crew materializes a briefcase full of jewelry to sell you at "special rates," that this is likely not the best place to spend your money.
Wrap Up:
Check the shuttle and bus times. They run regularly and can be very cheap. You can get a taxi or private car, but it will cost you 10-15 times more, and they may try to get more from you once you are en route.
If you stay in a hotel, check the important things first. Visually inspect the bathroom in the room you will actually be sleeping in, and if you are using a computer be sure to connect to the wifi before paying.
Book through a reliable hostel or go straight to the dock and sort it out there. You'll get better service and a better price.
Always ask the price ahead of time. If you don't like it, you can bargain/haggle or just walk away and try someone else. Never assume it is "included."
When someone is begging… consider the situation. If the person is a fisherman by trade, complaining he has no food and lives in a bay on a boat… they may be trying to fleece you.