Packing for EU was different and the same. I won't be coming back to the USA before moving on to Africa, Asia, Oz, NZ, Canada, etc, so I will be encountering every type of weather and temperature. I'll need every type of electrical outlet adapter
My Clothes:
I decided on what to pack, then packed what I thought I had decided on, and discovered in London that I had missed packing 2 T-shirts. I had laid out 6 t-shirts to pack, but when I got to London and took stock of my bag, I only came away with 4 total. Not a big deal, but not what I had planned. I recently started running every day, so i brought some extra shoes to accommodate this.
Tools:
I packed my remaining 2 TSA approved luggage locks, and by the time I was leaving London, I was missing one, so now that number is lessened. I decided not to pack mosquito repellent, as it would be months before I needed that sort of thing very often. I am still a huge advocate of flashlights, and have taken up using the workout bands whenever possible. Again, army surplus can opener… don't leave home without it.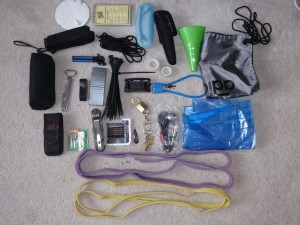 Electronics:
This is the heaviest part of my bag. I had some electronics stolen in Buenos Aires earlier this year ande have since replaced them and even been reimbursed to the extent of my travel insurance policy. I left out the scuba camera as I am not planning on doing any more dives until the Great Barrier Reef in Oz next year.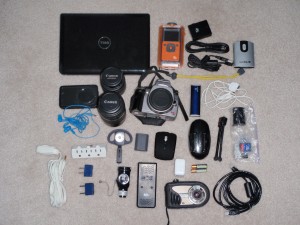 Health and Medical:
I finally got to use my steripen. It's worth the money. I used a good amount of sunscreen and my handheld mirror often. A collapsed roll of TP is absolutely essential. always have it in your pack.