Wow.
So the pack has changed a bit since I left home some months ago; mostly just gotten dirtier and heavier.  The packing list has changed a bit, too. Some things I thought I would need were never used, while some things that started as an afterthought were used almost every day. I'll do my best to recap what changed and highlight the things that really came in handy. Take a look.
My Clothes:
This list changed the most, though ended similar to what it started out as. Items lost through attrition/churn are struckout. Items added or augmented are in blue.
Things I would have or did change: bring extra socks, though nothing fancy. Bring more basic t-shirts, nothing technical. they last longer without smelling and are just as comfortable in high temps. Keep a closer eye on hats and headgear. On overnight buses I often realized I had walked away without the hat or bandana I was wearing the night before.
Tools: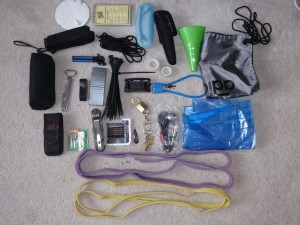 Loved: Earplugs! I used them every day. get several pairs as they are cheap and will often fall on dirty floors. Ziploc sandwich bags; i bought some in Belize and was always using them for random uses. My little compass payed off big time when needing to orient in a new city. Towards the 3 month mark I noticed I was getting fat. Jumpstretch makes some exercise bands pictured above that are a pretty good way to get into exercising while traveling aside from jogging/situps/etc.
Used: Flashlights I used quite often. the headlamp saw a good deal of use, and so did the little pocketknife flashlight combo i bought in colombia. Sadly, I lost the pocketknife a couple weeks before I left Argentina. It cost me roughly $5 and was worth every penny. The army surplus can openers were lifesavers; cheap, tiny, and serviceable. The corkscrew broke off of my army surplus tool, so I bought a separate one at the grocery store in Mendoza, Argentina. You can't go through Argentina without a corkscrew. I used both bottles of repellent I took with me and purchased two more while traveling. The Lemon Eucalyptus repellent seemed to work as well as the DEET and was much more pleasant to wear, though had to be applied more often.
Abused: I think 3 pairs of eyeglasses is excessive. I mailed one pair home at some point. I lost one TSA lock somewhere. I never used my immersion heater. I gave away my keyring flashlight to my host in Quito so she could see to put her key in the door at night after hearing a great story about how she climbed the garden wall once.
Electronics: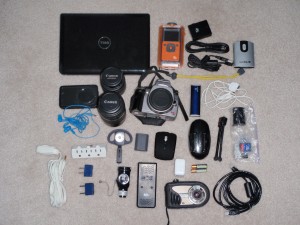 This was the area where I lost the most items whether through negligence on my part, or theft. By the end of the trip I had gone through about 5 pairs of headphones, had no telephone, most of my camera equipment had been stolen, it was pretty bad. I have replaced almost all the stolen parts already, so we'll see if my travel insurance will replace it.
Health and Medical:
I never used my steripen, but I will continue to carry it with me as I think it is invaluable when needed. I used a good amount of sunscreen and my handheld mirror often. A collapsed roll of TP is absolutely essential. always have it in your pack.
I hope all this information is useful at some point while you guys are planning a trip like this. If you have any questions about the packing list or where to get any of this stuff, feel free to leave a comment here or shoot me an email. Thanks for reading!