North Carolina.
Independence. U-haul. Tears. Bus.
New York.
Jasper. Running through Brooklyn. Eating Red Bamboo. High Line. Dumpling house. Pictures of pictures.
New Jersey.
Train. Bus. Airport.
The ground is flying by so fast my head and heart are spinning. it's blurring and this cabin is so sterile. I want to taste the USA one last time; I want to hear it and feel like it is home and know it will welcome me back with more than promises and empty potential… but I do not.
The world tumbling away. It is slipping, sliding, melting past so fast that I can barely see. I want to claw at it, to grab it and hold on, but it would only slide through my fingers. I want to grab at the window and hold it but it's going, going, gone . Soon I will be left with only this empty black over an endless ocean.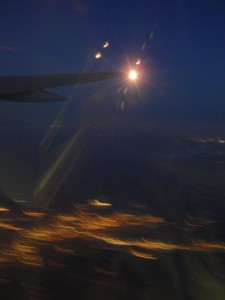 But tomorrow is a new morning, a new continent, a new world.