So, my return to NC has been short lived. My return was not all I had hoped it would be, not the triumphant return but more of a slow meticulous tally of all the things that can go wrong in a life when you aren't looking. So, it is time to move on again; leave the crash site.
That being said, some good did come of the trip.
I've been practicing karate for a number of years. Last year, when my Sensei was sent overseas for military service, I helped out by teaching his younger karate classes. I got to know a number of great kids and help them to gain skill and confidence in the martial way. I taught the kids to break boards, perfect their techniques, and even fight. Wednesday night Fight Club was always my favorite, maybe because of the bruises more than despite them.
This past weekend was a culmination of sorts, when I got to go on a camping trip with them for some training in the woods with my Sensei since he returned. Imagine 3 black belts trying to manage 16 kids for three days in the woods. We had a great time training in all kinds of conditions and I finally was awarded my full Shodan (Black Belt) rank in Go Ju Ryu.
The touching part came when my Sensei gave me hsi personal belt; the belt that his sensei awarded him when my sensei received his Shodan.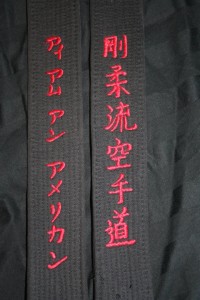 I'm sad to be leaving, but I'm excited for what is coming. One day, maybe I'll be returning to a real life, with a certain special girl and all the promise of family and career and a semi-normalcy. Until then, I am something of a wanderer; a vagrant. Lost.
~The Unyielding Wolf