All night bus rides have become something of a specialty of mine. So has getting ripped off.
Luckily, when leaving La Paz for the second time, my wonderful hosts gave me yet another piece of superlative advice. If you go to the bus terminal and buy your bus ticket for Uyuni there, instead of paying for the "tourist bus" you will only pay about 100 Bolivianos (I paid 90) instead of over 200B and you will ride on the same bus in the same seating as the tourist ticket holders. This is a common theme, and if you get upset by it you are only wasting energy. Everyone everywhere in Latin America will charge you more for being foreign, just try to avoid the sincere rip-offs like this one.
Waking up on a bus with the sun leering brightly in and me peering blearily out has become something of a common morning for me. Today is no different. At first glance, Uyuni appears to be something of a hole… a loose conglomeration of hovels and poorly maintained streets.
At second glance, it appears the same way.
In fact, Uyuni truly is a place you don't want to spend much time. Thus I got to moving. Within two hours of landing in the city I had spoken to over ten travel agencies, picked up three stray Belgians, booked us all a stellar trip through the Salar de Uyuni and the Atacama desert, and was on my way to find breakfast. Highlights as follows:
All tour agencies only want your money.
All tour agencies will lie to you.
You can get it cheaper… but you might sacrifice something.
There seems to be a floor price of about 500 Bolivianos for a decent 3 day tour from Uyuni. Believe me when I say that below that, the bottom really falls out. 600B is a solid average price, though you can pay a bit more and get less people in the jeep with you.
Fair warning: if you are looking to pay less than that, you may likely get some amazing story to go along with your tour… like one of these:
8 flat tires and running out of gas three times
No drinking water provided for a three day trip through the desert
Wheels falling off the jeep while it is in motion
These all actually happened to people I met down there. Another key point for enjoyment of the Salar tours is the guide. I offer this advice, speak to your guide personally before you pay. Every agency told me they had English speaking guides, but only two would actually let me speak to them before we paid. Of the many jeeps we encountered while on the tour, almost none had an English speaking guide even when the entire jeep was filled with people who only spoke English.
Do not eat at a cheap restaurant in Uyuni. After I had eaten, I walked down the street and chatted with some other travelers at a less pricey looking restaurant. As I sat and chatted with them, one of their group came back from the bathroom with this story:
The waitress in the ladies bathroom was busy unclogging a toilet by hand. thereafter, she simply wiped her hands on her apron and walked straight back into the kitchen.
Everyone at that table put down their forks immediately. Springing a bit for a better meal is usually a good idea everywhere in Bolivia, but still does not guarantee clean food. Use your head, and take appropriate measures should you get sick.
Quick recap on the city of Uyuni:
Shop around. Get a good price around 500-600B.
Verify you are getting a guide who speaks your language.
Don't skimp on food if you eat there.
Get the heck out of Uyuni as fast as possible.
All things aside, Uyuni did provide some interesting photo opportunities.
I was in the city of Uyuni a total of about 4 hours. I wouldn't recommend anyone take longer than that. Once our tour got underway, we headed straight for an old train graveyard. You might think this sounds boring, but all you need is an imagination and a camera and you can entertain yourself for hours.
A great deal of the landscape looked like the Southwestern United States…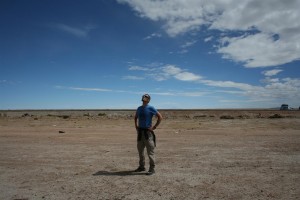 This was just a brief stop to get everyone warmed up. After the trains, we swung back through the city to pick up our cook. That's right, most tours will include a cook to prepare all your meals for you on the trip. While none of it was as good as the food on the Pampas tour outside Rurre, it was generally quite palatable and filling.
The key to really enjoying this tour, as with may others, is getting a good group of individuals together. I had a blast with one of my travel mates, Tim, and was largely eschewed by the other two in the jeep. It will make all the difference in the world, especially when going through the Salar where much of the photography requires coordinated and imaginative group interaction. If you don't believe me, google "salar de uyuni photos" and take a look at what some people have cooked up. It is astounding. My photos of the Salar have a unpolished appeal as well.
At the end of the first day we found ourselves rolling off the Salar and into rocks where we saw a great sunset and found a wild building made entirely of salt… with some interesting choices in decoration…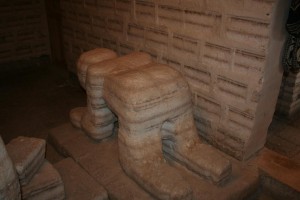 In places like this, electricity is a luxury. While the showers were heated by gas, the "hotel" only had 2 hours of electricity per night run off of a generator. There was a power strip in the lobby that everyone was expected to charge camera batteries and things off of. This gave me the perfect opportunity to use my light socket current tap to charge electrics in the privacy of my own room.
All in all, the Salt Hotel was novel and comfortable. One thing to note: when they tell you that breakfast is at 7… you need to set your own alarm. The guide will not wake you up until it's time to leave. The second day of the trip goes up to ridiculous heights of around and over 5000 meters above sea level. More on this later…