I didn't know what to expect here, but I didn't expect this.
Portugal is the only 100% work free country of this trip. I wanted to take some time, and just get away from everything and do some writing. Initially, I thought I might go to Tuscany and rent a little place and then I remembered Love Actually; where the writer went to Portugal to write. I thought that sounded good. The Portuguese would say "Ter macaquinhos na cabeça." I have monkeys in my head.
Stepping off the plane, there is free WiFi in the airport, and Uber is in full effect in Portugal. It was a welcome change, and I was at my AirBnB place in Lisbon (pronounced Leash Boa) in no time. Unfortunately, I forgot there was a time change and I got to sit on the stairs for a while until my host showed up.
My apartment is near the top of a building, above an old underground night club, and smack in the middle of the action. As I
walked out to get dinner the first night, two guys offered to sell me hash, and I had to Moses my way through the sea of
tourists. August is basically a Holiday month for Europe. Yes, Americans, Europeans get way more paid vacation than you do.
I flew into Lisbon, booking two nights with an AirBnB near downtown, and was happy to find that on top of free WiFi at the
airport, Uber is also alive and well in Portugal. I was at my apartment in no time and for a only a couple Euro. My first night in town was almost enough to send me running for the hills. Over crowded with families of tourists, North Africans trying to pass as locals attempting to sell me drugs in the street, along with the shock of returning to Euro pricing after a week of Hungarian Forints: I was overwhelmed. I am very glad that I stayed, though.
This wasn't Portugal for me, yet. The language was Brazilian. The stairs were Roman. The tile on the buildings was Moroccan. It seemed a city with an identity crisis, while I was trying to find some unifying theme in a place I had never seen.
The following morning I got up early to investigate a place I had seen a picture of and become enamored with. I am a hopeful romantic at heart, which has led to some questionable decision making on my part. Sometimes it can be a simple photograph, or a cheesy Hollywood movie that is enough to make me want to travel somewhere. Today, a picture of a hole in the ground drove me to go to Sintra.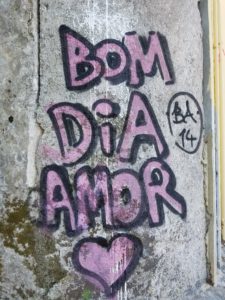 The Quinta da Regaleira is a huge acreage of land above Sintra which is now my new favorite place on Earth. It is acre after acre of winding paths through overgrown side trails, beautifully-maintained centuries-old castles, towers, caves,
subterranean passages, waterfalls, and more. I was lost for hours just following one route or another like a toddler escaping
the garden for the first time; fearless and ecstatic with wonder, propelled as much by my endless thirst for newness as much as by the lingering feeling that I shouldn't be having this much fun… that somehow an overseer had forgotten to lock the gate and I was breaking all the rules.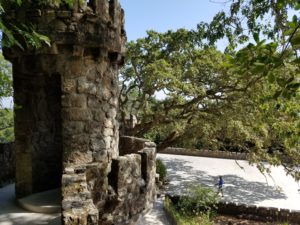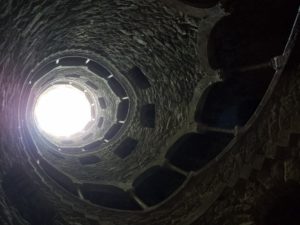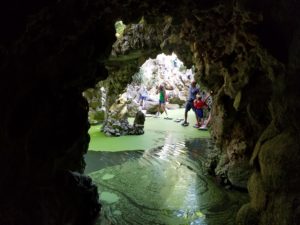 As soon as I arrived, I noticed a castle where the clouds should have been over the city. When I learned you could hike to it as well, eschewing the tour bus, I sprung into action. The hike was purported to be an hour, but I was there in 25 minutes easily, bathed in sweat from the heat more than the climb; it was nearly 100 farenheit. The Castelo dos Mouros was every little boys dream come true. A castle running from mountain top to mountain top, flags, and spiral staircases to the ramparts… tower after tower to explore… no safety railings, no warnings, just adventure at your own risk. It was heaven.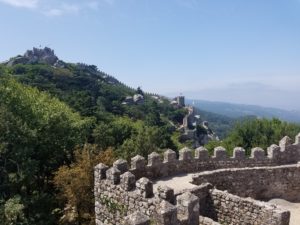 Eventually, as I am no longer a Lost Boy, these things must come to a close. I began the tired, sweaty, and quite satisfied walk back to find a ride down the mountain; climbing up a mountain is fine… climbing down is a chore. In line for the bus, I met a fantastic Canadian family whos daughter is currently in Grad school in Germany and gave me a new avenue to explore for Grad School programs. As we spoke, a tuk-tuk pulled up yelling "€5 for a ride down to the train station!"
Tired of waiting for a bus full of people, I ran off to the near certain death of a downhill mountain tuk-tuk race and found a lovely pair of blonde Americans already in it. Off we went, caroming down the mountain to our doom or a good conversation.
My new friends, Rebecca and Hannah, had just come from Porto and were on their way to Regaleira, so we swapped tips on what to look forward to, and exchanged contact info, promising to meet up later for drinks or the beach, the way that travelers do; well-intentioned but rarely fruitful.
In Lisbon later, I open my windows and shutters, walking around in my boxers letting the breeze blow through the apartment. There is a huge Tango party happening two floors below me and I sit in the window staring out at the city, watching the lives of others through their lit windows. The music gives it all a strange H.S. Thompson or Tarantino feeling. Across the street on the floor above me, I witness the spastic rhythmic flailing of a head and the rise and fall of a hand; uncertain whether I am watching lovemaking or a murder set to music.
Given the heat of the past few days, neither would really surprise me.
Windows open, lights on, I wake up to a whispering city in the small hours of the morning when the only people awake have
reasons to be quiet; be they amorous or sinister. The heat of the day is gone, as is the wine dizzy sleep that caught me unawares. With a last breath of the night air, I get up off the bed to close the shutters, kill the lights, and nestle back into Portuguese dreams in my last night of Lisbon sleep.
Promises of sea water rouse me from my bed an hour after the sun has stopped trying. I've a message from the American Blondes from the night before detailing why they couldn't meet up the night prior, and with promises to meet at the beach later. I'm on the street in minutes sporting a mutilated Tshirt and my american flag shorts; making sure to bring a bit of Texas class to this side of the Atlantic! On the train ride, I remember that Estoril, a city that used to host the MotoGP championship is on the same train line. As we pull into the station, I note that the train is about 30 meters from the ocean across a beach. Acting on impulse, I leave the train and bury myself in salt water for the first time in over a year.
Baptism isn't the right word, but it's all I have.
Salt water cures everything; be it sweat, tears, or the sea. An hour of immersion, and I am feeling new again. I realize that the Estoril beach also has free WiFi. I check my phone, and see the American Blondes have messaged that they are at another beach 3 minutes down the line; aptly name Beach of the Queen. Catching the train from Estoril to Cascais, I disembark and see large signs claiming to point the way to the beach. I know the truth… what we seek is never found by following others signs. Praia do Rainha is not far, and not necessarily hidden, but not advertised. Walking in the opposite direction of the signs, I wander down to the water; immediately jumping in and thoroughly enjoyed myself for another hour or so before the girls find me. It's a good feeling to be recognized in a strange land.
Awash in sea water, strange music, and the ocean of uncovered breasts around us we lose ourselves in our stories of our travels, our homes and loved ones, our ridiculous jobs, and what truly matters to us. Hannah, by her own admission, could hold a conversation with a wall. In an hour of her queries, I tell them enough of my outrageous experiences that the American Blondes name me the Second Most Interesting Man in the World; only bested by the Dos Equis guy because of his beard. 🙂 I'm ok with that. Hopefully, they never see my Iceland beard… that might mean I have to give an acceptance speech or something.
The Sun loves us in it's furious fashion. As we talk and laugh and run down to jump in the ocean we darken; maple, then brown, and finally red starts to creep in at the edges. The conversation turns to protection from the sun, and I realize that I have a bag to pack, and a train to catch. I spend so much of my life running away. Why can't I ever just stay put? Tonight, in another city, I will feel the heat of the shower exquisitely on my browned skin and I will remember this moment.
The train to Porto is a simple thing. I don't plan ahead; all the best stories happen that way. I just walk up like I belong on the train and the ticket counter gives me a First Class ride on their Alfa Pendular… the name being far more evocative that the train at first sight. I'm in First Class as all the coach seats were already sold by the time I made it to the counter; the late tax. This First Class action isn't something I normally do. The hills of Portugal roll by; farms, hay bales, low slung baobab copies… maybe olive or orange trees?  It reminds me of my first train ride.
I arrived late; having spent an hour lost in the Madrid underground. First Class was all that remained. A strange girl with hair like chocolate asked to join me. We rolled through the Spanish countryside, those Gladiator hills… giggling, drunk on wine and the elation of one another, aware that we were somehow breaking the rules… in disguise here among the adults.
How long ago was that? How many tens of thousands of miles?  How many lifetimes?
This is not that life. I am no longer the fearlessly unfolding Lost Boy fueled by endless imagination. In the beginner's mind, there are many possibilities… but I am no longer a beginner.  This is not that life, but it's all I have.
Next stop: Porto
Lisbon wrap up:
Stay away from the tourist streets. Try Caffe Tati. Try A Venda Lusitana.
Better yet, get out of Lisbon as quickly as possible.
Go to Sintra. Spend a day, two days, explore and play and hike.
Catch the train to Cascais. Stop at any beach you find along the way. FOMO has no place here.
Go to the stairs south of Alfama and dip your toes in the water and watch the sunset.
For breakfast, try Ovo Royale at Tartine. You won't be disappointed.
Use Uber rather than the taxi mafia.