Beer. Chocolate. Waffles.
These were the foremost thoughts of mine before I came to Belgium. Delicious thoughts.
Having been here for a few days, I had yet to experience Waffles or Chocolate. Enter: Matthias and Kathleen!
Matthias is leaving for a big trip today, and we decided to grab lunch before he goes. In the square in front of Église
Sainte-Catherine, Saint Catherine's church, there is a blue covered shop called Nordzee; half fish market, half corner cafe. We
pulled up on the corner and started ordering everything on the menu that caught our eyes, along with a couple Belgian beers. The fishmongers kept crying out plate after plate to be picked up as we stole pieces off one another's dishes and hungrily decimated the culinary landscape before us.
After far too much lunch, Matthias looked at me calmly and said, "Perhaps we can go for a waffle."
It wasn't a question; it was a statement that we were going for a waffle, which is apparently what Belgians do after a meal. I
was fast falling in love with this country. Along the way, Matthias and Kathleen described to me the two different kinds of
waffles and how they are made traditionally, and how tourism has affected the types of waffles available in the city. It was all
quite interesting, and I was quite ready to eat them.
On the way, we just wandered past a bunch of people in haz-mat suits that were acting as if nothing was out of the ordinary. I wasn't convinced, but hung around long enough to snap a pic for evidence, should I need it.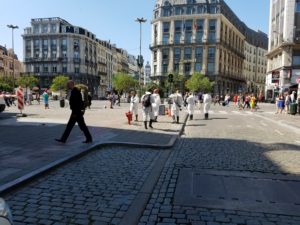 Along the Rue de e'tuve, there are a number of waffle places. Some are touristy, but the best are small, unassuming, and will
sell you a waffle for €1. Loaded down with whipped cream and strawberries was €1.50! 🙂
If you proceed south, braving the sweating bodies of untold countries of tourists hellbent on the best photo or the most
souvenirs, you will come across one of the National Treasures of Belgium; The Manneken-pis. The Little Man Pee.
Seen world round as an icon of phallic fountain perfection, the tiny peeing statue is the template by which so many others
fountain wieners have been produced. Writing this, it makes me wonder how citizens of Vienna, Wieners, came to be synonymous with penis…
Kathleen, Matthias, and I all took our turn snapping a ridiculous tourist photo in front of his exposed member.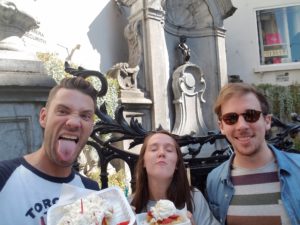 I had to get back to work, so the couple walked me home, and Matthias dipped into a shop for a moment to pick me up a
commemorative bottle of Kathleen's favorite beer; Bush!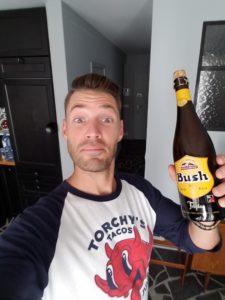 I was off to work again, but as the hours wound on, I found myself in constant appreciation of the day and the lovely Belgian
day I had had this far. I took a quick break to walk back to the Grand Place and stop through several of the most highly rated
chocolate shops and pick up some gifts for the friends that I had yet to visit on this trip.
Back at the house later, dangerously near 10 o'clock, I realized that I had to leave and get some food, or I would not eat until
the following morning. Le Pré Salé was close, delicious, and most importantly; open! Charlotte, the lovely waitress from earlier
in the week was working again alongside a different young pretty waitress that I had not seen before. The unknown curvaceous
quantity stopped in her rounds to fix her hair in a strangely placed mirror and lean in to ensure there was nothing in her teeth
from whatever snack she had last consumed. It is fun to watch others concerned with their appearance when I am traveling, as
that is often the furthest thing from my mind. 🙂
The pair of them wound their serpentine routes through the restaurant, which always seems a bit hectic to my untrained eyes, and Charlotte even found time to stop in and ask me how my time had been in Belgium. I answered honestly, that I wish I had more time to stay and see the local side of things. She gave me the names of some local bars, then paused thoughtfully before asking for my number.
I'll call you when I get off work. I'll show you around with my friends. We are going out around 1:30.
Now, when you are pushing 40 like me, going out at 1:30 am is a damn late night. However, being the intrepid adventurer that I
am, going out with locals to do anything is always a priority, so I agreed.
Already, today, I had had beer, chocolate, moules, waffles, lunch with Belgian friends, and was now going to go tour the secret
bars with the locals. This was shaping up to be a banner day.
I went back to work. I was hard at work until 12:30 Belgian time, cranking out request after deadline for work, finally shutting
down just before 1 o'clock. I still hadn't heard anything from Charlotte, but thought maybe she just wouldn't call, and so I
took a shower and started getting ready for bed.
At 1:10, the message came in from Charlotte. "Meet in the Grand Place in 20 minutes?"
I was already undressed and sitting in bed. Weighing the effort of remedying my current state of undress with the potential for
hi-jinks, I promptly responded in the affirmative, threw on some clothes, and hit the road.
The Grand Place is filled to bursting with tourists during the day. They are everywhere crawling over the place like an
overturned anthill. At night, the square is peaceful, but not abandoned. There are groups of kids everywhere, sitting on the
large flat stones with bottles of beer and wine in varying stages of emptiness. They are laughing, playing games, smoking…
even puking.
Nearby a teenage blonde does her best to hold her brunettes friends hair from her face as she sprays the paving stones and her Converse low-tops with the overflow of too much beer on a Thursday night. Drinking is legal at 16 in Belgium. It doesn't
ensure that they are any better at it. The two cars of police look on but do nothing. This isn't the first time they've seen
this, and certainly won't be the last… maybe not even tonight.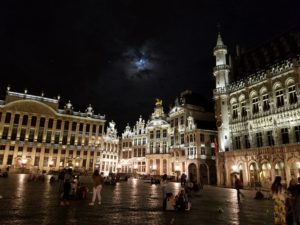 Interesting thing to note. The Grand Place in Brussels has free WiFi. It's clearly labeled, and available at all hours of the
day and night. This helped immensely at 1:30 am when I was trying to figure out whether Charlotte was still coming or not.
After taking some time to appreciate the moon over the square and the quiet beauty of the location in the dark, we took off
through the now happily empty streets to a bar named Bonnefooi. Her friends Emily and Ana follow. We dance and sing and laugh and drink beers until one of the barmen comes to our table and tells us it is time for shots. I don't know what was in it. I have no idea why we were the recipients, but he poured one for each of us and himself, taking care to keep them lit and explain wordlessly the process for downing them without setting your face on fire. Not the simplest of things to do in the wee hours of the morning, after a healthy share of Belgian beers.
Ana is somewhat the worse for wear, and Emily decides it is time to take her home. I offer to walk Charlotte home through the cobblestone echoes of words that wish I could pronounce them properly just once. The night is so quiet compared to so much of the day. Staying up until people being to wake up does that, but this is the only time of day when you get the movie shots of these old streets: the solitary boy and girl swaddled in thousands of years of history. There is something special about these moments. These are the days that stay with us. This is my most Belgian day ever.
Wrap-up:
Bonnefooi is a great place to kick it after hours with locals
La Grande Place has free WiFi
Get out to dinner EARLY!
Waffles!
Manneken-pis is ridiculous but fun. Go see the golden shower.