Austria is a land of fairy tales. From the moment I left Graz, the train took me into every bed time story I had ever heard. Mountains, villages, castles… all I could see was Sleeping Beauty, Rose Red, Hansel and Gretel; it was otherworldly.
Austria is also a land of meat. Everything… everything is either weiner, schnitzel, or wurst!
The things we, as Americans, know about Austria are all derived from pop imagery. Arnold Schwarzenegger, The Sound of Music, and the fact that they make food named after genitals… not really, but, yeah, really.
Leaving Germany, where nary a smile was returned, Austrians were a lovely change. They have mostly been warm and engaging, and while not everyone smiles back, sometimes I'll get one!
I've never been to Austria before this weekend, and when I found out the MotoGP was here this year after a 20 year absence, I thought it was a great change to kill two birds with one awesome stone! Here's a quick peek at Turn 4!

Graz is the second largest city in Austria with a population of around 300,000. It's a nice place with good food, but one can find good food almost anywhere. Austria really came alive for me once the train pulled out of the station leaving towards the GP. That first train ride alone made the trip to Austria worth it.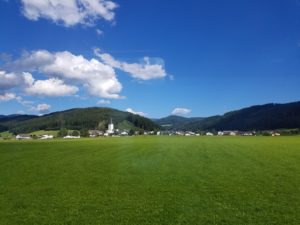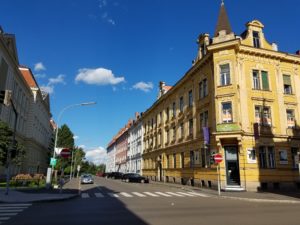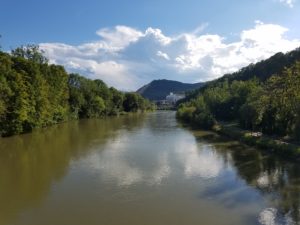 I dropped my bags off at the apartment I rented for an exorbitant sum and went straight to the track to watch qualifying. The first night back in Leoben, I went out to dinner; initially having a troublesome time of finding a place that I wanted to go that was close and open. I went to the main square, which is just where you must go for food, it appears, and went to
Weinlaube Schwarzer Hund on a whim and a TripAdvisor review.  I was astounded by the knowledgeable, helpful, English speaking Birgit; my server. I simply asked for a glass of her favorite red wine, and whatever menu items would go well with it; which was of course, Meat. Everything was perfect.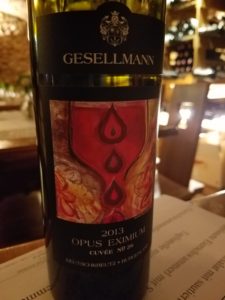 Then I was introduced to Birgit's brother and friends and they immediately adopted me. We spent the next 6 hours drinking beer and spritzers and talking about life in Austria and America and dancing in a Bodega. It was more than I could ask for to feel so at home while so far afield. If you ever feel lonely, friends are just a beer away.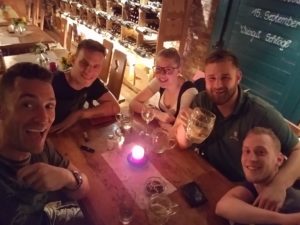 The Österreich ring is a 30 ish minute train ride from Leoben to Knittelfeld, and the Red bull ring has shuttle buses running all day that pick you up for free and take you to the track. If you give the bus driver 2 euro, he will hand you a beer for the ride. Remember, this is Austria, where beer is legal for 16 year olds.
The track was extremely well managed, no grief from security for my backpack, even police all over the place, but everything flowed quite well.  Aside from the occasional person on holiday who passed out drunk in the middle of the afternoon.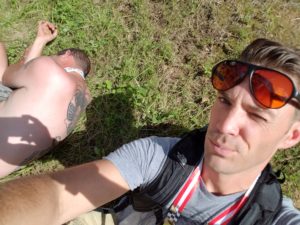 All in all it was a fantastic weekend. Sunday, after the race, life was quiet in Leoben, and nothing much to do but sit in the Hauptplatz and watch the locals down beer and ice cream. My new friends were no where to be seen, and it allowed me some quiet time for reflection before retiring in order to get up early for a train ride back in time for breakfast at Granola in Gratz.
There is something romantic about church bells in a small town. the echo of old metal through the cobbled streets. Calling men from their homes, and sending them back again when a day's labor was finished. reminding children when to scatter home after mischief end.  In Islamic countries, there is the call to prayer 5x a day. While the bells toll much more frequently, they are less insistent; more cadence. They aren't commanding you to do something, just patiently marking the passage of our time here… perhaps a reminder that this is all we have… so do something with it. These are the thoughts in my head as the bells toll me into consciousness as the sun rises on my last day in Austria. So I decide to climb to a mountain castle.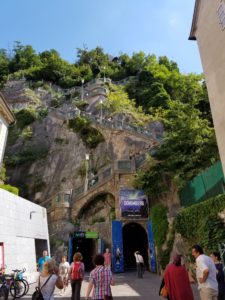 And now, I'm off. Leaving the magic of the mountains and the Sound of their Music and off to Belgium, to visit my friend Tim from our wild trek across Salar de Uyuni.
Here's a quick wrap up to get you started on the right foot:
Learn some basics in German: directions, what, how, something, numbers, i need/want
Learn how to say you don't speak German! Ich kann kein Deutsch sprechen.
Austria closes down earlier than a lot of places, be prepared, your options will get limited after 8 p.m.
Trains are awesome, and you should take your time and ride one rather than fly if you can.
 Most towns in Austria are easily walkable, no matter where you want to go. Enjoy it.
Always keep a few 50 cent pieces in your pocket. Most toilets in train stations are pay to enter.
Water is free, as opposed to Germany, and it is some of the best you can get; straight from the tap!