I'm not very good at telling the future.
Often the places I thought I should avoid, or that I planned on glazing over, become some of my favorite eperiences. Guatemala was an example of this. Berlin is another; this city gave me a lot to think about.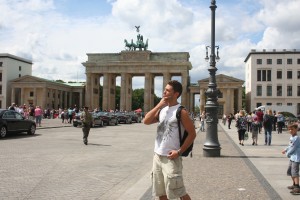 I had never given much thought to my German ancestry. I never thought much of the language or culture as a whole. I thought it was leiderhosen, beer, and Nazis. I was wrong.
Now, while I understand that Berlin is not Germany as a whole, it is nothing like what I had imagined.There were some things that were exactly as I expected them to be: sausage everywhere; well orchestrated mass transit; large boring buildings. Then, there were something things that were completely different: magnificent artwork; wonderfully preserved historical artifacts; and the dildoking.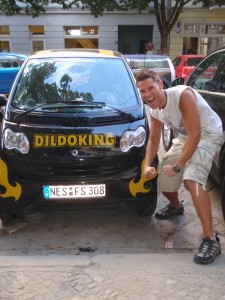 I stayed at a new hostel, opened July 2010, named Metropol. The place was clean and efficient, had a beautiful breakfast spread and lacked imagination. Typically German, except that though it was on the upper floors of a building, the tiny elevator was often out of service. I would recommend it as much for the cleanliness as for the location of a laundromat and wonderful takeaway food right outside the front door; everyone in Berlin knows about Mustafa's.
Often times in foreign cities I feel overwhelmed and I listen to my ipod to seal some of the world away and be alone for a while. In Berlin, it was different, I wanted to absorb the city, to listen to the foreign-ness of it all and bask in the experience of this place I thought I would not like.
I went running most mornings after looking at a map and picking a direction. People got out of the way, bicycles yelled and nearly collided with me when I wandered into the bike path. There is a specially paved strip of most of the sidewalks that is just for bicycles and they are super protective of it.
In Berlin, I had my first experience with NewEurope and the NewBerlin group. NewEurope is a conglomeration of tour guides in major cities in Europe and they give free walking tours every day, rain or shine, and the guides work for tips. I highly recommend it.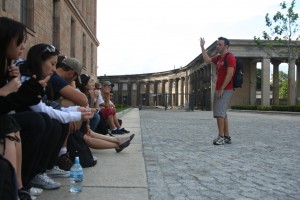 In just 4 hours I learned more about Berlin and Germany than I had been learned in my entire life. So much so I attended one of their specialty "pay" tours later in the week. It was completely worth it. I can now actually hold down my end of a conversation about the past and present of Berlin. I found the abandoned Paper Street Soap Company and went in to participate in some are appreciation. A friend pointed it out to some of us and I had to go check it out. Visual aids as follows…
We brave souls were cautioned that it was in fact, not entirely legal to enter, so if we were to get yelled at, we would need to leave… quickly.
It would be nearly impossible for me to try and sum up everything that I was given in this meandering show and tell spanning two days, but here are some more highlights. Come to Berlin. See it for yourself!
It wasn't all fun, games, and sightseeing, though! There were sincere challenges. Like Laundry Day… and making new friends!
One  of the best parts of Berlin for me was Museum Island. After closing time, it was just a beautiful place to rest and really be anonymous. but while the museums are open it is a bustling life force, filled with the population of the world and the riches of past civilizations. The buildings still bear scars from bombs on their exteriors, but as picturesque as it is, the interiors hold magic. Everyone goes to the "New" museum to see the bust of Nefertiti, but for me the most amazing, and time consuming, place on the whole Island, perhaps the whole city, was the Pergamon museum. The three story relief of the Gods battling the Titans is jaw dropping.
All this can be quite tiring.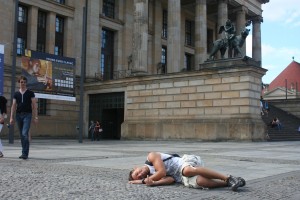 But Never Fear! I, your intrepid wanderer will persevere!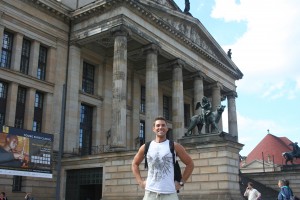 If you get the time and don't mind cold water, I recommend looking up a little bar called Badeshif. "Beach" bars seems to be all the rage in much of landlocked Europe and this is the best I have seen. They have a pool in the river. Yes, it sounds redundant, but it is worth the trip, as long as you don't expect too much from the bartenders. They ran out of Corona and just stopped selling cocktails when they ran out of ice.
The one disappointment that Germany held for me was simply because of my failure to plan. My karate organization has a few schools near the Frankfurt area on the other side of the country. I had truly planned to go and spend a few days training with them, but by the time I got around to it, flights, trains, and time were all a bit against me, so I didn't make the trip. Maybe next time.
The last day of Berlin had a special surprise for me in the form of my friend Justin. He and I met up and began what would be several weeks of consistent awesomeness. Missing the train to leave for Poland wasn't the best start, but we did prove that you can spend the entire night in Berlin without sleep quite comfortably entertained with the right companion.
Next stop: Poland.